Low-vision means a condition where a person has any of the following conditions, namely:
visual acuity not exceeding 6/18 or less than 20/60 upto 3/60 or upto 10/200 (Snellen) in the better eye with best possible corrections; or
limitation of the field of vision subtending an angle of less than 40 degree up to 10 degree.
Some of the most common causes of low vision include age-related macular degeneration, diabetes, and glaucoma. Low vision may also result from cancer of the eye, albinism, brain injury, or inherited disorders of the eye including retinitis pigmentosa.
Assessment of Low Vision
Low vision is assessed only after taking all the possible measures to correct the vision as much as possible. These measures include medical and surgical interventions and/or use of spectacles/lenses.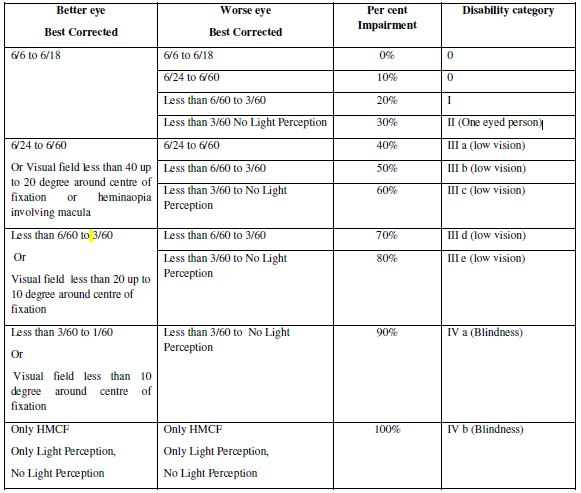 Low vision is assessed in terms of Best Corrected Visual Acuity (BCVA).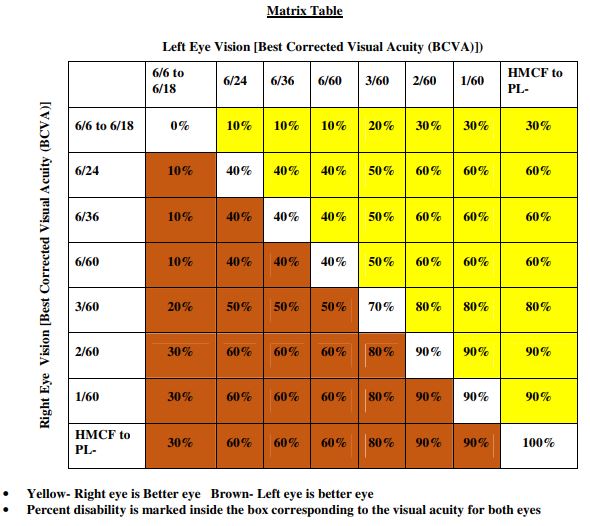 Low Vision as Disability
In India, under RPWD Act 2016, low vision is considered to be a disability. A person having benchmark disability, can avail disability benefits from the government.
Disability Certificate for Low-Vision
If you think you have low vision and you want to get a disability certificate, you should visit a nearby government hospital for further directions.
The medical authority will decide whether disability certificate should be temporary or permanent. The disability shall be permanent to be certified. The certificate can be temporary if condition is likely to worsen and also for specific purposes such as for pursuing education. The need of reassessment, if required, should be clearly mentioned in the certificate with time frame. In certain cases such as keratoconus, developmental defects, operated congenital cataract with corneal decompensation, operated congenital glaucoma with hazy cornea etc., the patient especially can be issued a temporary certificate.
Medical Authority for Disability Certificate
The medical authority shall comprise of one ophthalmologist and certificate of disability shall be countersigned by Medical Superintendent or Chief Medical Officer or Civil Surgeon or any other equivalent authority as notified the State Government.
Citation
Use the citation below to add this article to your bibliography